They're hard to find nowadays. Except if you go to a skip. Or a school.  I had an old keyboard lying around so followed a tutorial to get it to work with an Arduino. It's got 4 cables – Power, Ground, Data and IRQ. You can get adapters or just take the cables apart.
You need this library - it's pskeyboard.h
I then got my robot arm – available online for about  £35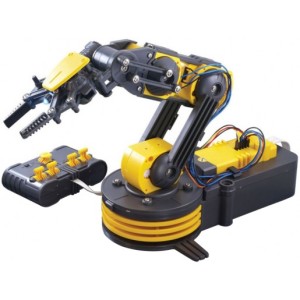 I just took the wires for the motors rather than using the control box.
Then I used the Adafruit MotorShield V2.3