We run a number of code clubs for children in York  The clubs teach programming skills and can link it to physical electronics if they want. The ethos of the clubs are to have fun with computers and to learn to program.
Saturday Morning  computer club
9.30am – 11 am (term time)
Acomb Parish Church Hall
This is the first club of its type in York. The club is a place to relax and enjoy all things computing.  You can learn and practise programming in Scratch,  Python or harder code. Make games, make computer music, control robots, LEDs. There is really no limit as we have a range of resources and software available.
There is really no limit to how far the skills can go as it is all up to the imagination and the programming skills developed. There are several teenage volunteers who are all studying GCSE electronics and computing to assist pupils so you will not be left behind if you join the club at a later time.
£10 per session or £55 for 6 weeks.
Thursday code club

Venue Energise leisure centre ICT suite
Thurs eve 6.45 – 8pm (term time)

£55 per 6 weeks.
Suitable for 8 plus.
Similar to the Saturday club but a bit quieter. A range of programming is on offer – from simple Scratch programming up to harder coding using a range of electronics.
Please contact us to book a place. Places are limited.
Minecraft programming course
We're starting a new 9 week course to teach children how to program Minecraft using the Raspberry Pi.
This course will:
Introduce children to text based programming
Build and extend on their programming skills
Develop their maths knowledge including problem solving, computational thinking and co-ordinates
Develop their creativity
Introduce concepts such as WHILE, IF and WHEN
Be great fun!!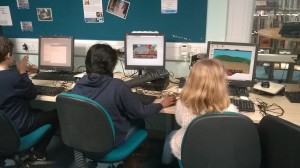 Some of the things that can be done include
Teleporting using code
Building giant structures in seconds
Changing blocks as they walk
Building mazes in seconds.
Building "hide and seek" games
The course starts on Sep 12th  and lasts for 9 sessions. It costs £80 and places are limited to 10 people.
Time: 6.30 – 8pm
Age : 7 – 13
Acomb Friends Meeting Room
Please contact me if you are interested and would like to reserve a place.
Electronics and programming course
Wed 6.30 – 8pm
Energise Leisure Centre IT suite
£90 for 10 sessions
A 10 sesssion course learning how to write code to control a range of electronic. It's a great introduction to coding and a fun way to learn electronics including:
Controlling LEDS
Burglar alarms / motion sensors / distance sensors / light sensors
/ sound sensors
Robot control with joysticks
Controlling LED matrices
Making music
Using stepper motors, servos
Neopixel lights
Finger print sensors
Voice activated robots
The club is run by an experienced primary teacher with full insurance and DBS (CRB) checks. We also have several GCSE students studying electronics to help.
If you can't commit to the clubs, we will also be running holiday workshops. There will be one off workshops and also courses over a holiday time so children can learn a skill. Please contact us and we will send you details when they are available.